Sustainable Trust, Enriched Future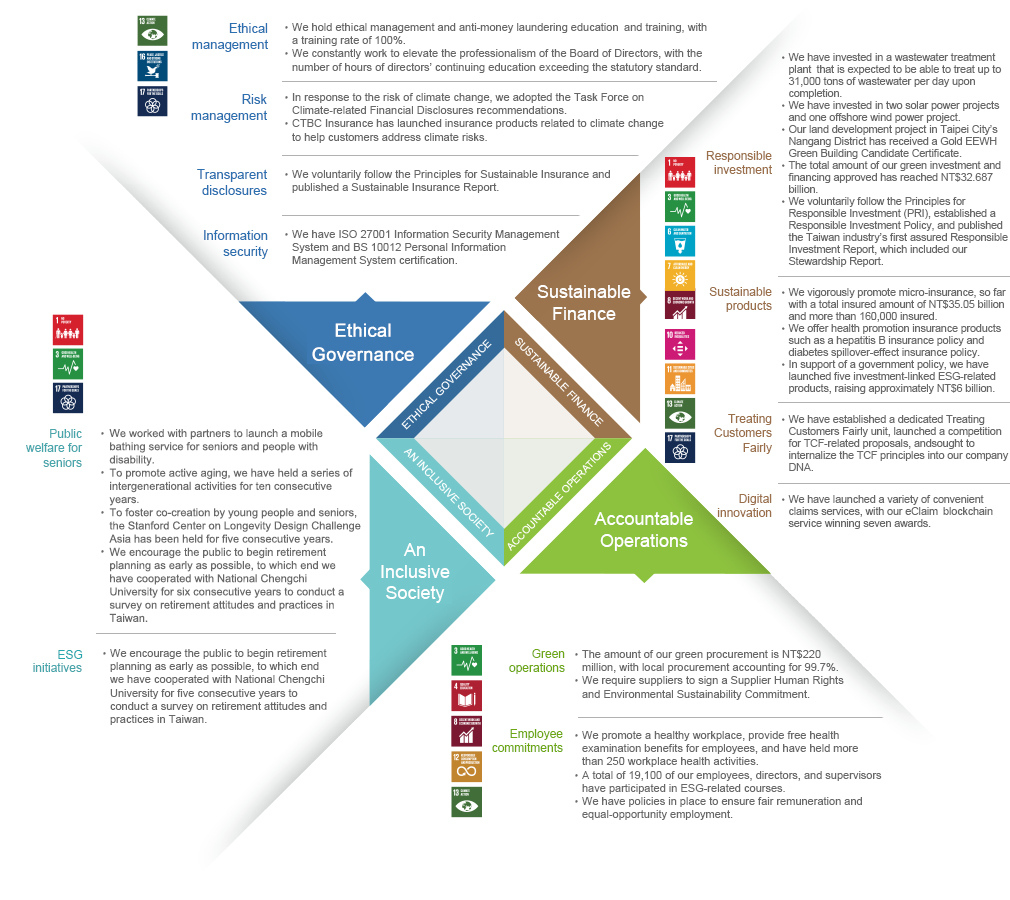 Taiwan Life voluntarily follows the Principles for Responsible Investment (PRI) and Principles for Sustainable Insurance (PSI), and leverages the advantages and resources of its core businesses to implement ESG. We integrate global best practices at a local level to create long-term benefits for our policyholders, employees, shareholders, investors, and community, and actively support government ESG initiatives to leverage and expand our influence.
We are also guided by "TRUST," the long-standing sustainability commitment of CTBC Holding that comprises corporate governance (Transparency), environmental sustainability (Responsibility), employee welfare (Understanding), customer service (Satisfaction), and community engagement (Together).
As an insurance company, earning and maintaining the trust of customers is our ultimate pursuit. With Taiwan to become a super-aged society in the next few years, the insurance industry will need to adapt to the reality that we will carry the trust of our customers for nearly a hundred years. Through our various sustainability-oriented actions, we hope for our customers to feel at ease and continue to trust us. Adhering to customer-centric principle with sustainability as the ultimate goal, we have coined a "Sustainable Trust, Enriched Future" vision. This blueprint approaches sustainable development from four strategic directions, namely "Ethical Governance," "Sustainable Finance," "Accountable Operations," and "An Inclusive Society." In addition to cataloguing sustainability-related issues that the Company should continue to focus on and develop, we strive to achieve 17 U.N. Sustainable Development Goals and stay current with global changes in sustainable development.
In order to more actively implement corporate sustainability management, CTBC Holding's Sustainability Committee was upgraded to a functional committee in 2020. All members of the committee are independent directors (i.e., four from CTBC Holding and one from Taiwan Life) and it regularly reports to CTBC Holding's Board of Directors on the group's sustainability strategy and annual results. Under the guidance of the Board of Directors, Taiwan Life formulates relevant policies and reports the sustainable results and action plan of the company at the senior management meeting on a quarterly basis.
Moving forward, ESG-related progress and performance will also be reported to Taiwan Life's Board of Directors every year, and external experts will be invited to continually conduct research on ESG performance trends, conduct industry gap analysis, and propose specific suggestions for more sustainable operations. Furthermore, in 2021, the sustainable business indicators of enterprises will be formally included in the management by objectives (MBO) of senior executives at and above the group head level in order to expand the influence of ESG.
2020 brought the world face to face with major challenges on many fronts. The pandemic forced the adoption of new modes of thinking, compounded by the chain effects of climate change, the increasing shortage of natural resources, and the global problem of aging populations. Even as the profits of Taiwan Life again reached new highs, we maintained our focus on using our corporate strengths to help Taiwanese society and to drive the global economy toward a more sustainable future.
We are committed to making Taiwan Life an insurance company that customers can trust throughout their lifetime and that operates with genuine sustainability. In doing so, we aim for this customer trust to be passed from one generation to the next. We are working to realize our "Sustainable Trust, Enriched Future" vision based on the concepts of co-creation and co-benefit and by implementing corporate sustainability in four major areas: "Ethical Governance," "Sustainable Finance," "Accountable Operations," and "An Inclusive Society." As we work to enhance corporate governance, maintain financial stability, promote environmental sustainability, improve employee welfare, develop inclusive finance, establish high-quality customer relationships, and engage with the community, every step we take toward stronger ESG performance is taken to foster trust among our customers and the public and to drive our sustainable operations, ultimately also raising our brand value.
In the past year, in addition to continually deepening our environmental sustainability and expanding our social engagement, we also reached a new milestone in transparent governance. We have published a Responsible Investment Report (which includes our Stewardship Report) and a Sustainable Insurance Report, all of which have been assured by an impartial third party. With Taiwan Life having voluntarily adopted the U.N. Principles for Responsible Investment and Principles for Sustainable Insurance, its Board of Directors has since adopted a Responsible Investment Policy and a Sustainable Insurance Policy. Furthermore, to help implement the customer-centric and sustainability-targeted blueprint, both "Treating Customers Fairly" and "ESG / sustainable development" have been listed as issues regularly tracked by the Board of Directors since 2020.
Meanwhile, the COVID-19 pandemic has accelerated the investment market's move toward sustainable development, with global demand for sustainable finance also continuing to rise. This has tested our ability to manage long-term risks and create value and has forced us to consider how companies like us can more effectively lead the ESG transformation and how the trust of our customers can be harnessed to improve sustainability.
This is Taiwan Life's first Sustainability Report. The publication process also gave us another opportunity to thoroughly review our various actions in ESG and their effectiveness, and as I always encourage my colleagues, ESG must take root if it is to be done well. Taiwan Life has become one of the twin engines of profit for our parent company, CTBC Financial Holding Co., Ltd. (CTBC Holding) and has written a new page in its history in terms of profit in 2020. However, we know that as we pursue continued profitability, we must also implement ESG in each of our core businesses and move forward as a benchmark company in sustainable insurance by echoing the U.N. Sustainable Development Goals from the core competencies of the insurance industry. In the future, as for the sustainable development of Taiwan Life, we will adhere to our original intention, protect and create the value of customers, employees, shareholders and communities, and jointly build a better future.
Sustainable performance highlights in 2020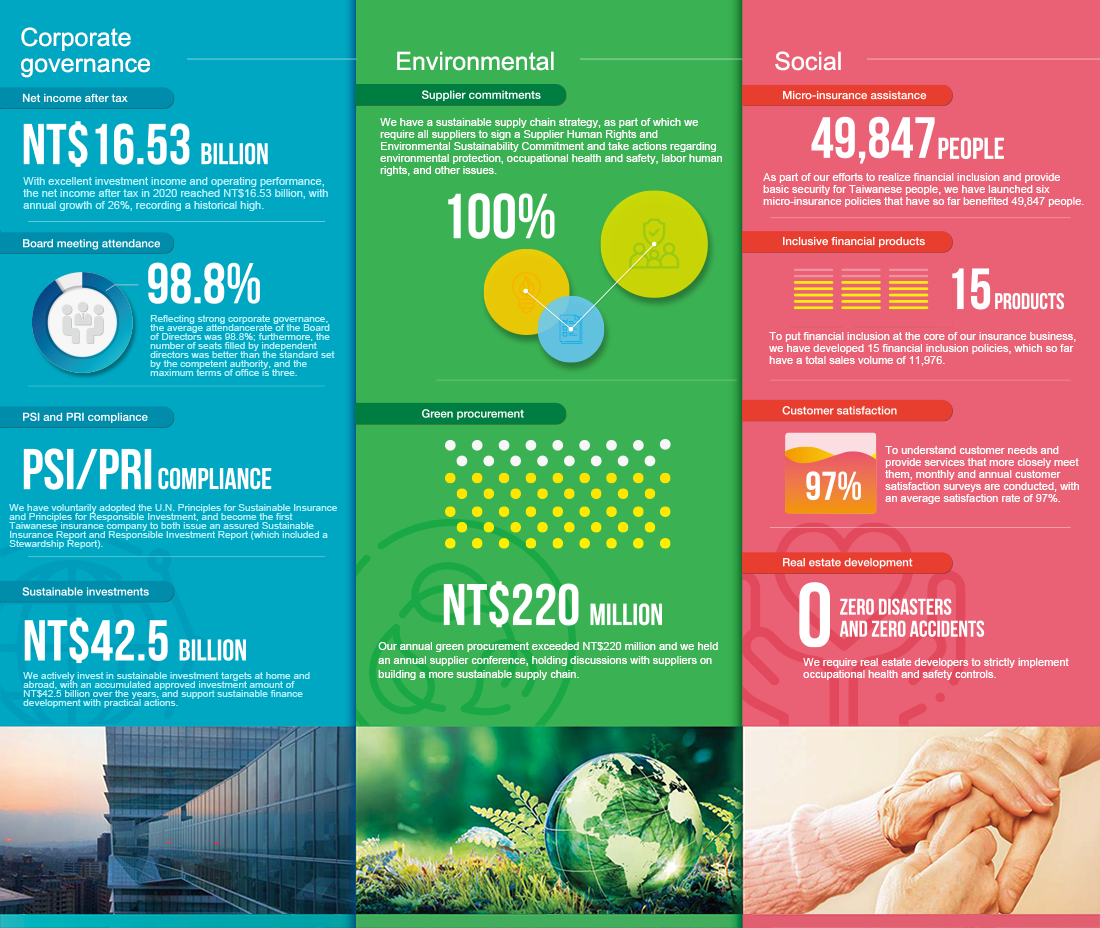 Awards & recognition 2020